Nombas makes every effort to ensure that the software we ship is complete and functional. We've yet to attain perfection, but if something isn't working right, we fix it.
These pages have the lists of known problems and their fixes.
If you believe you have encountered an issue that is not covered here, please feel free to contact us at http://support.nombas.com/.
Select an Errata list: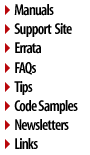 Search
Search our site.
Feedback
Provide feedback to us.