Nombas employees have found these links to be useful at sometime or other. We are providing these to you for your convenience. We by no means endorse any products, services, or documentation represented by any company, organization or individual to which these links refer. By clicking on any of these links you will be leaving the Nombas' Developer's Space. Enjoy at your own risk.

If you find a link you think is broken tell http://support.nombas.com/.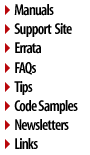 Search
Search our site.
Feedback
Provide feedback to us.